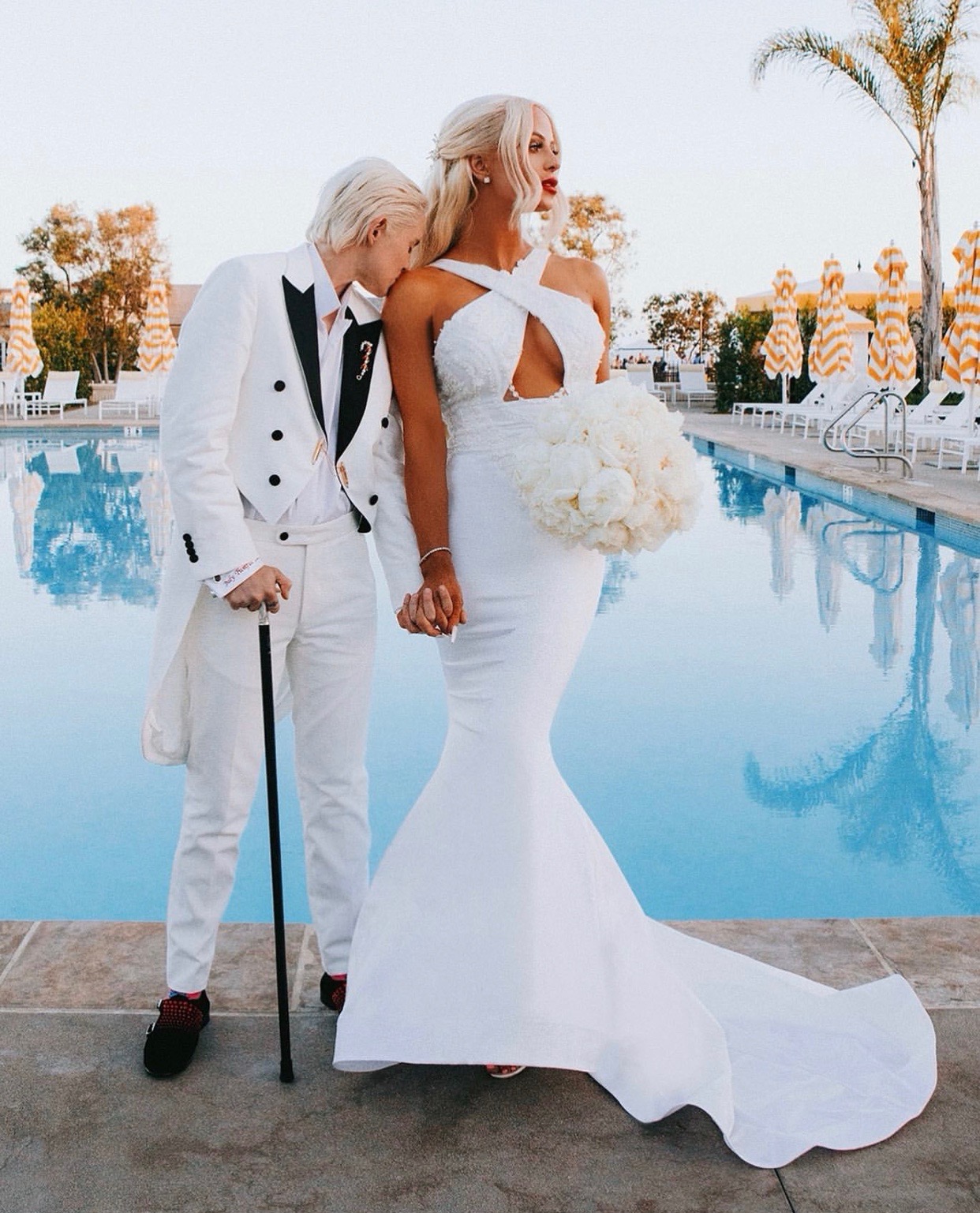 Gigi gorgeous getty & Nats getty
Murray-Reese Family Award Winners
Gigi Gorgeous is a YouTube star, transgender activist, author, television personality, actress, model, and LGBTQ icon.
She has nearly 8 million followers across her social platforms and almost half a billion views on her popular YouTube channel. Born Gregory Lazzarato and raised outside Toronto, Canada, Gigi was a nationally ranked diving champion. In 2008, Gigi's rise to stardom began when she created her YouTube channel, posting beauty, fashion, and makeup tutorial videos as a Toronto high school student, while also encouraging her viewers to express themselves in the face of bullies and harassment. At the age of 19, she came out on her YouTube channel, identifying as a gay male. In 2013, she announced that she was a transgender woman. She legally changed her name to Gigi Loren Lazzarato in 2014, a year in which she documented her transition on her channel.
In January 2017, her feature-length documentary "This is Everything: Gigi Gorgeous", premiered at the Sundance Film Festival. The film chronicles Gigi's life and transition and was directed by two-time Oscar winner Barbara Kopple, and on April 2nd, 2019, Gigi released her hilariously candid memoir, HE SAID, SHE SAID: Lessons, Stories, and Mistakes from My Transgender Journey. Last year, Gigi was named one of Time Magazine's "25 Most Influential People on the Internet", one of "Forbes 30 Under 30" and won YouTuber of the Year at the Shorty Awards. She was awarded the LogoTV Trailblazing Social Creator Award in 2014 for her advocacy on behalf of LGBTQ youth, and The Streamy Award for Best Beauty Channel the following year.
Gigi works closely with several LGBTQ organizations including GLAAD, LA LGBT Center and Children's Hospital of LA Transyouth Program. Her Halloween 2017 event for the Transyouth Program raised $50K.

Nats Getty is an American model, designer, artist, LGBTQ rights activist, and heir to the Getty oil fortune.
A self-described tomboy, Nats was born in Los Angeles and split her childhood between Santa Monica and the UK. Nats' late grandfather, well-known British philanthropist, and Founder of Getty Oil, John Paul Getty, inspires her to travel across the globe as an ambassador for the LGBTQ community.
Nats started her career working alongside her mother and brother to provide new infrastructures for the Los Angeles LGBT Center. Today, she works closely with GLAAD and is a board member of the Ariadne Getty Foundation, serving as the foundation's ambassador. In addition to her philanthropic efforts, Nats is a talented visual artist, painter, and fashion designer. Streamlining her passions, Nats has founded Strike Oil, a fashion and lifestyle brand that provides an outlet for Nats as an artist and acts as a platform for the community she stands by. "Strike Oil is not just a lifestyle, it's a thought process," Nats states. "I want girls who feel more comfortable on a skateboard than with a Barbie to still feel beautiful. I want 'the differents' to realize that they are the people that the cool kids come crawling to after high school and college. Being different isn't bad, it's our currency."
In March 2018, Gigi and girlfriend Nats Getty announced their engagement, and the two were married in July 2019. Gigi and Nats currently reside in Los Angeles, California. By sharing their lived experiences, they are paving the way for future parents everywhere, especially those who are transgender. In living authentically, and hilariously, Gigi and Nats help to create a world where all LGBTQ+ people's dreams of safely and successfully building their family can come true.
2019 IMPACT Award Winners
We know that it makes fiscal sense for family building providers to support the LGBTQ community right now.
Our latest research anticipates that nearly 4 million LGBTQ millennials will be growing their families in the near future. Putting aside ethics and morals, turning our community away would mean significant profit losses for providers. There's one organization, though, that doesn't see our community as a pile of numbers.
California Cryobank has actively served our community since 1977, well before marriage equality passed and public opinion about the LGBTQ community began to trend more favorably. Back when it meant that they might lose more clients by reaching out to LGBTQ+ prospective parents, California Cryobank fought to create an inclusive and welcoming practice—not because of profit, but because it was the right thing to do.
Under Scott Brown's guidance, California Cryobank has been a proud supporter of Family Equality and Path2Parenthood for over 10 years! They regularly sponsor Family Week, local Pride events, and Gay Days at Anaheim (remember those?). Brown often attends these events with his family to better connect with the community and determine how to meet our needs. Cal Cryo has also helped both Path2Parenthood and Family Equality initiate informational family building sessions specific to the LGBTQ community all over the country reaching thousands of individuals over the years.
Most recently, after understanding the growing needs of the trans community around fertility preservation, Brown encouraged California Cryobank to be the first of its kind to offer affordable egg and sperm freezing to the trans community, discounting the services at rates similar to what cancer patients receive, and making fertility preservation an accessible option for the first time for trans individuals in America.
When we talk about what it means to be an open and inclusive practice, we have to look no further than to California Cryobank. They don't just slap a few queer-looking people on their website and brochures and call it a day. They do the work to make sure that they deeply understand our needs so they can meet them with integrity.